You will find our 5-acre farm at 1,900ft of elevation, in the heart of the Kona Coffee Belt. Planted with Red Bourbon and SL34 beans, Uluwehi Coffee Farm offers the best in coffee. Red Bourbon and SL34 varieties are both excellent and have a superior cup quality
What is the Kona Coffee Belt?
The Kona Coffee Belt is located on the slopes of the Hualalai Mountain and Mauna Loa. Ranging from 500 to 3,200 feet above sea level, the Kona Coffee Belt is a strip of land that is 30 miles long and 3 miles wide. It enjoys sunny mornings, rainy afternoons, little wind, and mild nights combined with porous, mineral-rich volcanic soil. Consequently, it is a recognized "terroir" with ideal conditions for growing coffee
Kona coffee is rare and one of the most expensive coffees in the world. For this reason, some retailers sell their coffee as "Kona Blends". Generally, they only contain the minimum required 10% Kona coffee and 90% cheaper imported beans. As a result, to be considered authentic Kona Coffee, labelling laws require the display of the words "100% Kona Coffee"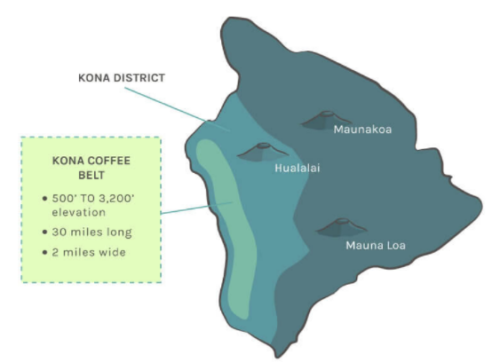 Fun facts:
The Kona Coffee Belt counts roughly 800 small Kona coffee farms. And most of these farms are 1-8 acres in size!